Rare Coins & Currency

Step into the fascinating world of rare coins and currency. Our team has a wealth of knowledge and experience in the field of numismatics, allowing us to provide top-dollar payouts for high-value pieces.
Discover the Value of Your Collection

At our shop, we're always interested in purchasing rare coins and currency from collectors and investors alike. Our team of experts has the knowledge and experience to accurately evaluate the value of your items and offer a fair price. Whether you have a single coin or an entire collection, we're eager to take a look and make an offer. Don't hesitate to visit us in person to sell your rare coins and currency today.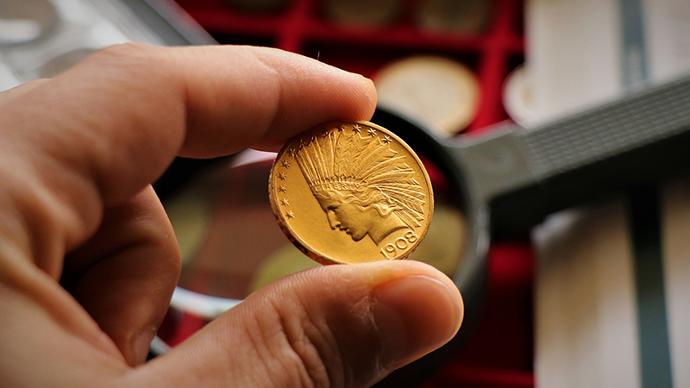 Items That We Deal In
These are the most common items that we deal with in the day-to-day transactions at our shop.
Rare Coins
All coins - U.S., foreign, modern, historic, and ancient.
Coin Sets
Government packaged and commemorative coin sets.
Tokens & Exonumia
Civil war & store card tokens, love tokens, transportation, and, more.
Collectible Currency
U.S. & foreign paper money, obsolete banknotes, & scrip.
Fine Bullion
Gold, silver, and other precious metals.
Slabbed, Graded Coins
Coins & Currency graded by PCGS, NGC, ANACS, ICG, & PMG.
Precious Metals, Precious Investment

Take a peek at our fine bullion offerings and start stacking.

Coins & Currency Selling Checklist
Below are a few things that can make your trip more successful when selling your coins and currency.
Have a valid form of ID with you: driver's license, passport, state ID card, etc.
Be early if you can. We stop buying 1-hour before we close for security purposes.
Bring all packaging and paperwork included with coins or sets for full value.

Larger collections may need to be taken in for evaluation.
Offers will only be made on items that you personally own.
If you leave with your items and come back, we will have to do it all over again.
DO NOT CLEAN OR POLISH COINS OR COLLECTIBLES BEFORE BRINGING THEM TO US!!!

We Don't Just Buy Coins: Unlock the Value of Your Jewelry
Don't let your old jewelry collect dust, sell it for top dollar today!

Coin and Currency Finder Request Form

Having trouble finding that special coin or currency? Let us help! Fill out this form with your specific requests and we'll do our best to find the items you're looking for. Fields with an asterisk(*) are required.